My second week of my muscle-building program did not go as planned. I had a very busy week and have only made it to the gym 2 days, of the 4 thus, far. On the 2 days I did not go to the gym, I did, however, work with weights at home. The only problem with that is I do not have the safety equipment or room to push the weight as heavy as I would like. I will be going to the gym Friday, Saturday and Sunday to make up for my loss. The two gym routines I accomplished are posted below. Cardio was 20 minutes at high intensity on two separate days.
I did a body fat measurement Wednesday morning and I am at 20% body fat. My goal is to get to 16%; my best has been 19%. Unfortunately, I missed 2 meals on Thursday, not a good thing when you are trying to reach a goal. I need to plan my "cooler" meals better this coming week.
Pull ups 5 sets to Failure
Lat Pull Down Wide Grip 4 sets of 10
Weighted Back Extensions 4 sets of 10
Seated overhead extensions 3x12
Weighted Dips 3x to Failure
Pyramid progression. (First set light and increasing weight with each set)
Incline Dumbbell Bench Press
Flat Bench Dumbbell bench press
Push-ups on medicine ball.
Push-ups on bench, wide-grip
2 arm Cable Pullovers with Rope
These two workouts will have you leaving the gym covered in the sweat of sweet success – you will be happily worn out! Give them a try and see for yourself. Let me know how if you liked them!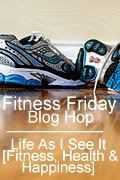 Be sure to visit some of the other Fitness blogs on the Friday Fitness Blog Hop!
Just click the logo above!