It's Fitness Friday and a holiday weekend, what better time to post recipes for Sides that won't bust you "sides"!
The first recipe comes from the host of our Fitness Friday Hop, if you haven't visited her page yet, make sure you do – it is full of wonderful tips, recipes, stories and other links!
1-15 oz. can black beans, reduced sodium, drained and rinsed
1 red bell pepper, chopped
1 small white onion, chopped
1/4 c. white wine vinegar
Combine all ingredients and refrigerate. Enjoy!

Variations
Try the recipe without the rice and add a second can of black beans.
Serve warm as a side dish or chilled as an appetizer with chips.
Add diced grilled chicken for a quick entree.
Add an extra jalapeno for a little more kick.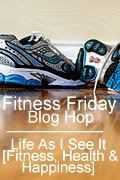 Creamy Buttermilk-Herb Potato Salad
3 pounds small red potatoes, quartered
1/2 cup crème fraîche or greek yogurt
1/3 cup fat-free buttermilk
1/4 cup chopped fresh parsley
2 tablespoons chopped fresh chives
1 tablespoon chopped fresh dill
1 1/4 teaspoons kosher salt
1/2 teaspoon freshly ground black pepper
1 large garlic clove, minced
1. Place potatoes in a Dutch oven, and cover with water. Bring to a boil. Reduce heat, and simmer 15 minutes or until just tender; drain. Cool for 30 minutes.
2. Combine crème fraîche and remaining ingredients in a large bowl; stir with a whisk. Add warm potatoes; toss gently to coat. Serve at room temperature or chilled.
Calories: 176; Fat: 5.5g; Saturated fat: 3.3g; Monounsaturated fat: 1.5g; Polyunsaturated fat: 0.3g; Protein: 4.1g; Carbohydrate: 28g; Fiber: 3g; Cholesterol: 14.1mg; Sodium: 326mg
While your doing your Friday Hopping, Hop on over to Sparkles and Bugs and join their hop as well!